Kitchen Equipment You need:
* 1 Mixing Bowl. * Scales. * Liquid measuring Jug. * A sieve. * Rolling Pin. * Pastry Cutter. * Cooling rack. * Wooden spoon. * Baking tray. *Greased baking sheet.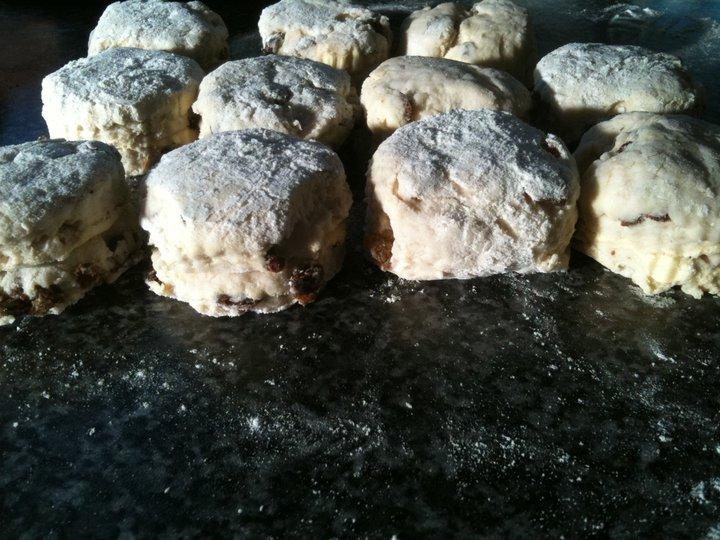 Cooking ingrediants you need:
* 150ml Milk. *8oz Self Rasing flour. *40g Mixed Fruit. *40g Butter. * 1 1/2 tablespoons Caster Sugar.
Method:
Heat the oven to 220C/gas mark 7. Weigh the ingredient out, sieve the flour into the bowl , cut the butter into small squares and rub in with your hands. Stir in the sugar and Mixed fruit. Add the milk little by little and mix in with a spoon, then kneed in to make a soft dough. Try not to make it too wet otherwise it will become to runny dough. Roll the dough out onto a floured work surface and flour a rolling pin and evenly roll the dough into a square shape with a thickness of no less then 2cm in height. The higher you can leave it, the better. Cut as many scones out as possible and add all the trimmings together into a ball and re roll out until you have used all the dough. Place scones onto the greased baking sheet, dust with a little flour and cook for 13-15 minutes. (I did mine via the Halogen oven and it did not need greased paper). Scones should be golden brown on top and bottom, let them cool on a wire rack. Enjoy with butter and jam!