Blackburn 2 v Aston Villa 0 21 November 2010
Pictures from a 2-0 home win can be seen here
Europe - The Final Countdown (Andrew Evans Remix).mp3
Blackburn v Aston Villa - 16 -17 Championship
Saturday 29th April 2017 saw Blackburn play Aston Villa in the Championship. A Danny Graham Winner send Blackburn to a Crucial 1-0 Victory in the Championship Survival Race.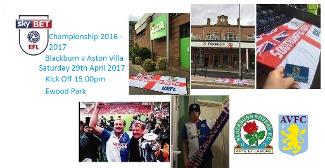 Blackburn v Aston Villa - 2018/19 Championship season
Ewood park hosted a Sky Sports selected Tv fixture for you in Blackburn v Aston villa with a 17:30pm kick off in moderation on Saturday 15th September 2018. Videos provided for you from the game.