Blackburn v Plymouth - 2017 / 2018 League 1
Tuesday 17th October 2017 saw Blackburn play Plymouth at Ewood Park. A 1-1 draw was played out and a great point gained from being 0-1 down.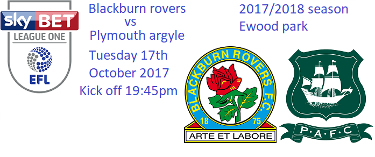 Blackburn Rovers v Plymouth Argyle. March 2024. Championship 2023/2024
Ewood Park once more hosted a fixture between Blackburn Rovers and Plymouth Argyle.
This time in the 2023/2024 Championship Season.
A full match report is linked below for you after the match has been played!
Andrews Daily photos for Blackburn Rovers v Plymouth Argyle
in the
2023/2024 Championship Season