Accrington Stanley v Blackburn Rovers
Accrington v Blackburn has always been a fixture enjoyed in the football preseason fixture list involing Blackburn. Fixtures played at Accringtons ground below.
Wednesday 23rd July 2014 saw me go to Accrington for Accrington v Blackburn. Blackburn drew 2-2.
Saturday 11th July 2015 saw Accrington take on Blackburn Rovers in a Pre Season match at the Store First Stadium. Blackburn won by 2 goals to nil!
Accrington stanley v Blackburn, 2018-19 pre season
Saturday 28th July 2018 saw Accrington play Blackburn in a double Lancashire winning pre season game with Accrington promoted to league 1 and Blackburn promoted to the championship once more. Photos and videos provided from a visit to Accrington stanley by my Blackburn friends. Accrington won 1-0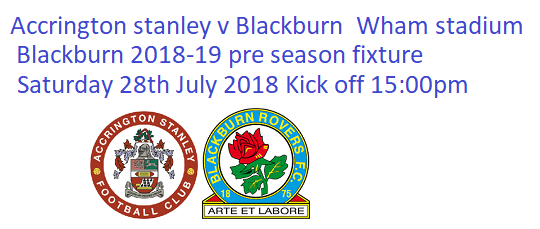 Accrington Stanley v Blackburn Rovers - 2022 - 2023 Pre season friendly
Saturday 9th July 2022 saw Jon Dahl Tomasson's side go to the Wham Stadium to face Accrington Stanley in 2x 60 minute friendlies. Goal videos and team news will be added and you will find a Matchday and good luck to Blackburn video added.
The friendlies were followed via Twitter.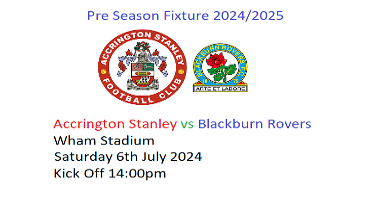 1st friendly videos are linked below!
2nd friendly videos are linked below!
Andrews daily photos for Accrington Stanley v Blackburn Rovers on Saturday 9th July 2022