Sunday 11 December 2011 saw me visit the Stadium of Light for the very 1st time. New Sunderland Manager Martin O Neill took charge of his side for the very 1st time. Despite Blackburn holding possesion for 83 minutes and going 1-0 up. Sunderland won the game 2-1 at the death. Pictures below!
Sunderland v Blackburn, Championship 2022 - 2023
The Stadium of Light saw Sunderland host Blackburn Rovers in a 2022 - 2023 Championship fixture. The game was watched on Sky Sports Football. Sunderland won 2-1. Blackburn Rovers are still to draw a game in the Championship this season!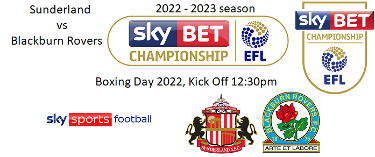 Andrews daily photos for Sunderland v Blackburn in the 2022 - 2023 Championship season