Celtic v Blackburn Pre Season Friendly 2010
I decided to go further then I have ever done before on the 7th and 8th Augest 2010 for a Blackburn Rovers game. I took our Crosscountry Voyager train to Reading, changed to go the quick way into Birmingham New Street via Solihull and then the 1603 of Birmingham New Street which is direct to Glasgow Central. Despite it naturally taking ages to get to Scotland by train from Southampton, the scenery and views were amazing. I stayed in the Premier Inn, close to Celtics ground which was nice and comfortable after such a long trip along with breakfast booked for the morning. I arrived into Glasgow Central at 2024 and it was just a short 10 Minute ride into Carmyle. I flew back after the game from Glasgow International with a lift back to the airport after the game from a friend who I have known for ages online as I had work the next day. Flight time was at 20:10 arriving at Southampton Airport at 21:40, flight was sadly delayed by 1 hour and then I I got the train back to Southampton Central before getting the bus home but I really enjoyed the weekend, especially with Blackburn winning 2-1 with goals from David Dunn and Alan Judge!
Gerry And The Pacemakers - You'll Never Walk Alone.mp3
Pictures of the weekend below!
Celtic v Blackburn, Pre season friendly 2022 - 2023
Saturday 16th July 2022 saw Celtic play Blackburn Rovers in a Pre Season friendly at Celtic park. The game was followed by Blackburn Rovers's Twitter feed.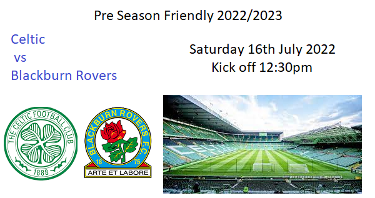 Andrews daily photos for Celtic v Blackburn on Saturday 16th July 2022